Posted on | September 1, 2009 | No Comments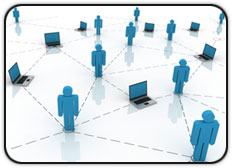 I received an email from a Business & Coaching Consultant I know in Australia, his name is Peter Rowe and his company is called Profitune. Oh, stop by and visit with him, there is a wealth of great information at his website… tell him I said G'day..
In fact check out his August Newsletter it has a great article on "Time Management for Sales People."
A little background, I lived and worked in Australia for over 16 years as a Business & Training Consultant. Peter Rowe is helping a very close friend of mine Alan Clare, get his Organic Wine Distribution Company up and running smoothly in Australia.
So, when Peter sent this email to me, with the Subject Line: Positive actions cause a ripple effect, I opened it straight away…
I guess I read the line more as "What goes around Comes Around" and ties in very closely to a past CRM Tip I sent out called the  "The Effect of the Power of Giving on your Business"
Here is what Peter wrote and I would like to share his words with you now, as food for thought… Also a big thank you to Peter for providing the "Seed for This CRM Tip" as the Aussie's say… "Good on you, Mate!"
"Hi Kevin ,
A few months ago we provided some help when it was asked and considered the case closed. However, last month I was on the receiving end when someone whom we'd helped referred his best friend – in Northern Ireland – to me as a potential coaching client!
That kindness created a slightly magical journey for me. I've begun coaching with his best friend and the incident left me with a few pearls that I'd like to share with you.
Positive actions tend to provoke others. We did a favour and it was immediately returned to the benefit of two other people – and the ripple probably hasn't stopped yet!

Referrals save time because the referrer has already perceived a match between the needs and capabilities of two parties and so the likelihood of a positive outcome for all is high.

Technology has dissolved the geographical boundaries for many businesses – and will progressively dissolve ideological boundaries for us all. (Skype Video helped my client & I to get a feel for our compatibility that was sufficient to commit to coaching together.)

Distance is no bar when it comes to liking someone you've yet to meet in the flesh.
Regards
Peter…"
What Peter has to say makes a lot of sense…. we are at the front end of what I call the "Creation Society"… a "Transition" from the "Knowledge Society" a term coined by Peter Drucker. (The Creation of New Ideas, Products and more importantly… Creating New Way's of doing Business)..
We must turn Knowledge (Knowledge Society) into something of Value, in short we MUST CREATE Something with that Knowledge… by creating something new… in new ways…. we are becoming more than Entrepreneurs…. we are evolving into what I call "Creatreprenuers"..
Our Template for these Creations is "the Global Social Network."… making as many quality connections as possible.
Literally, what we send out can come back in many astounding ways… so the choice is ours… TO CREATE VALUE or not to create value… As I outlined in the "Power of Giving" CRM Tip…. We can make a difference… let's make it a Positive Difference.
One of our tools in managing these connection is through effective Customer Relationship Management. Whatever tools you use…. you must use them… an old adage… not sure where it originated but it says…. "If you don't use it, you loose it"
This is very true with business relationships…. actually with any relationship..
Just something to think about….
One last observation…
We tend to do relate with people we like…. and we tend to attract people that share common values as we do…. in effect people that are like us… This holds very true in Business….
Remember to visit Peter Rowe at his website… Profitune…. and tell him I said Hello… O.K.?

Comments